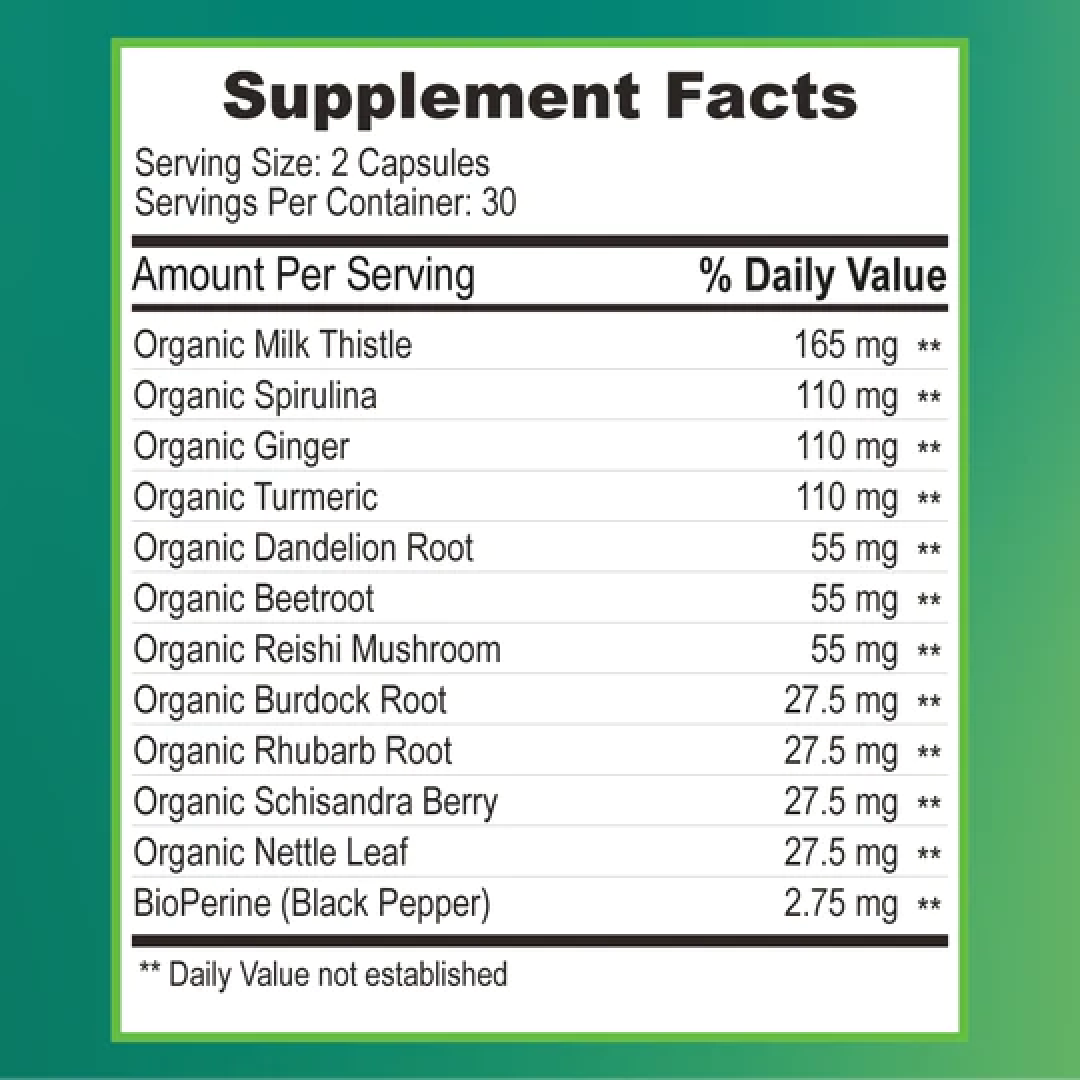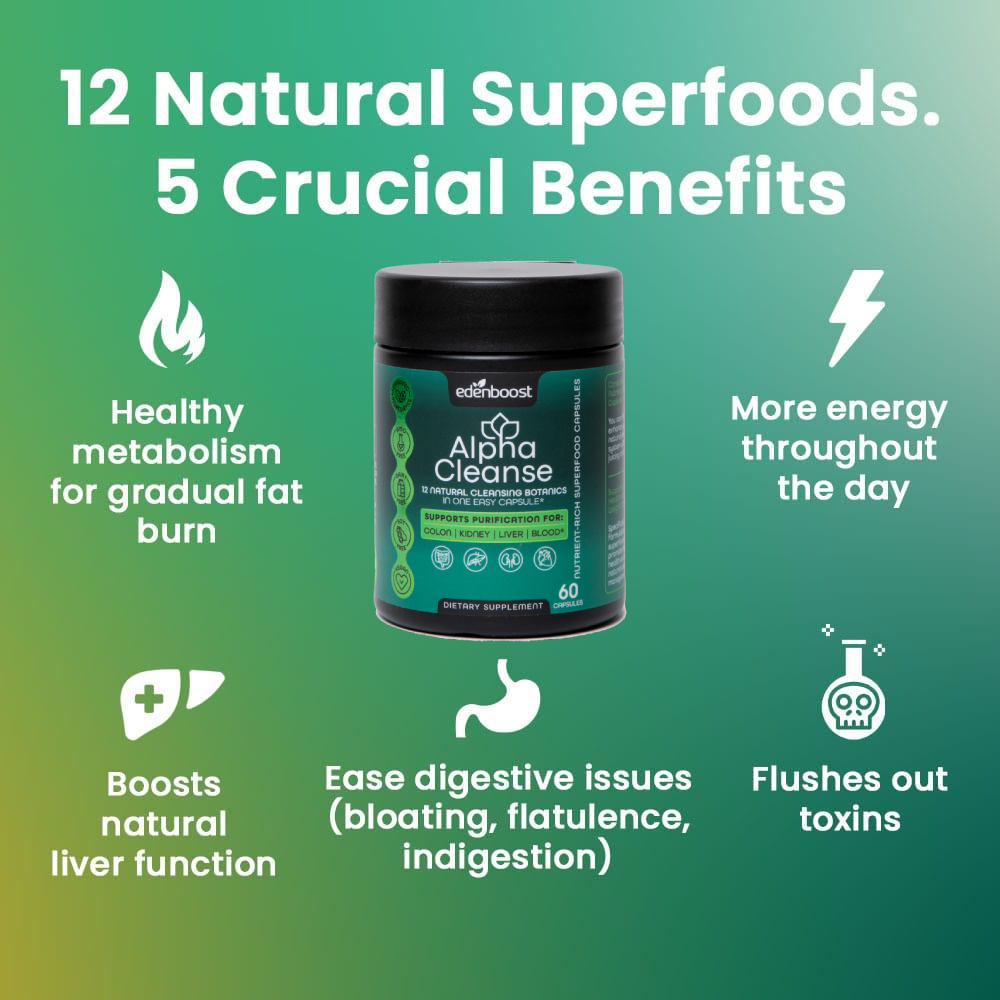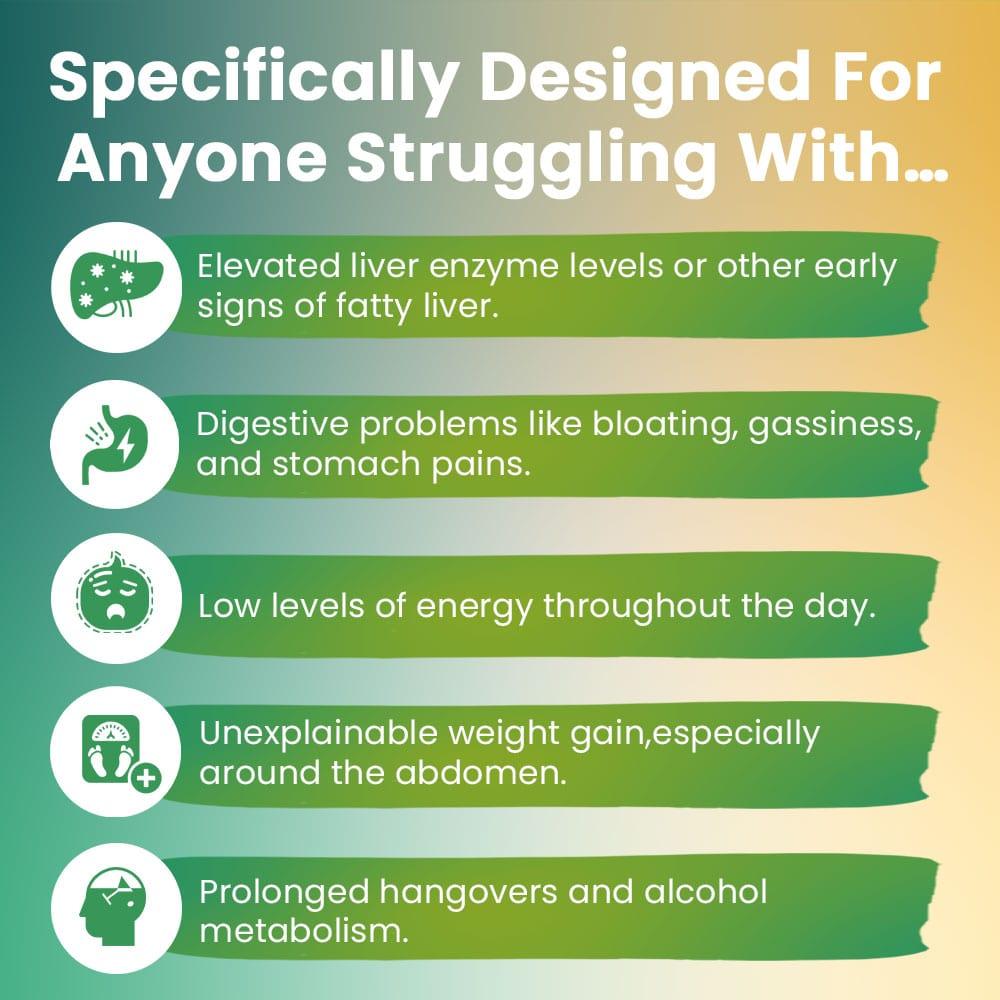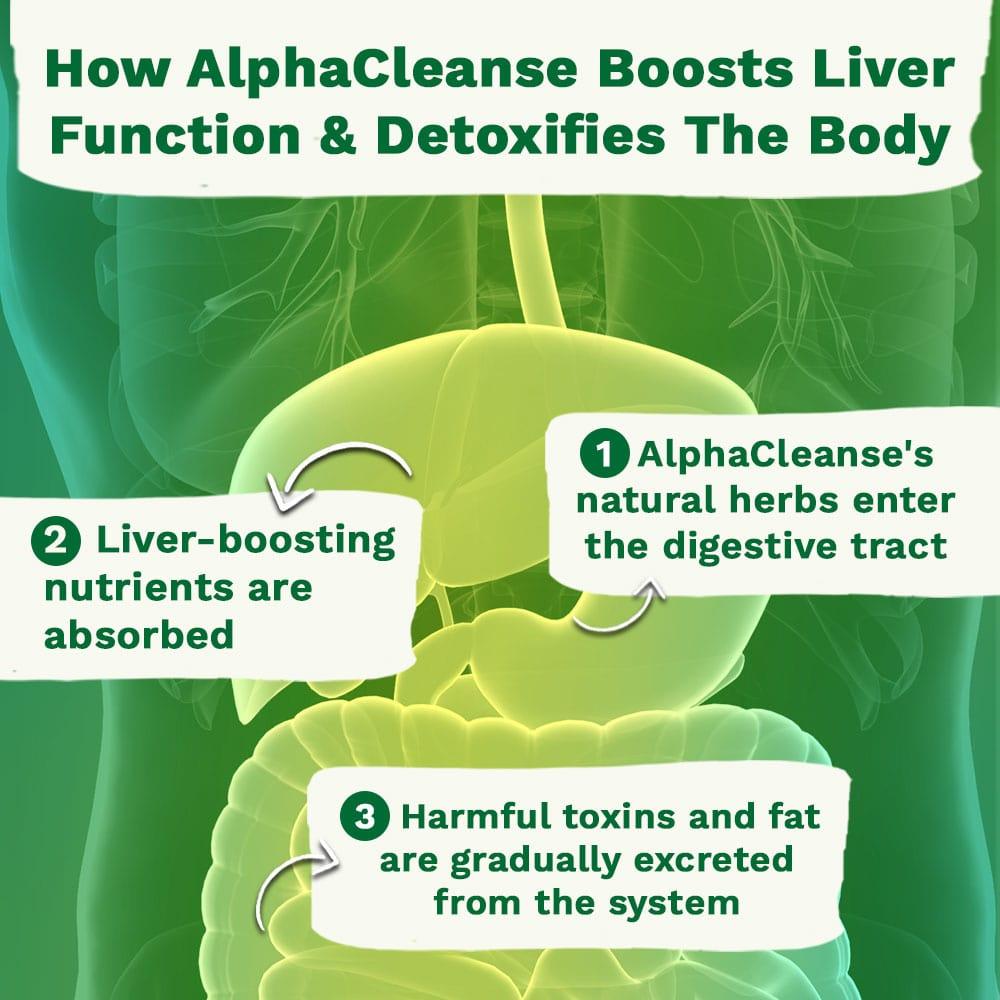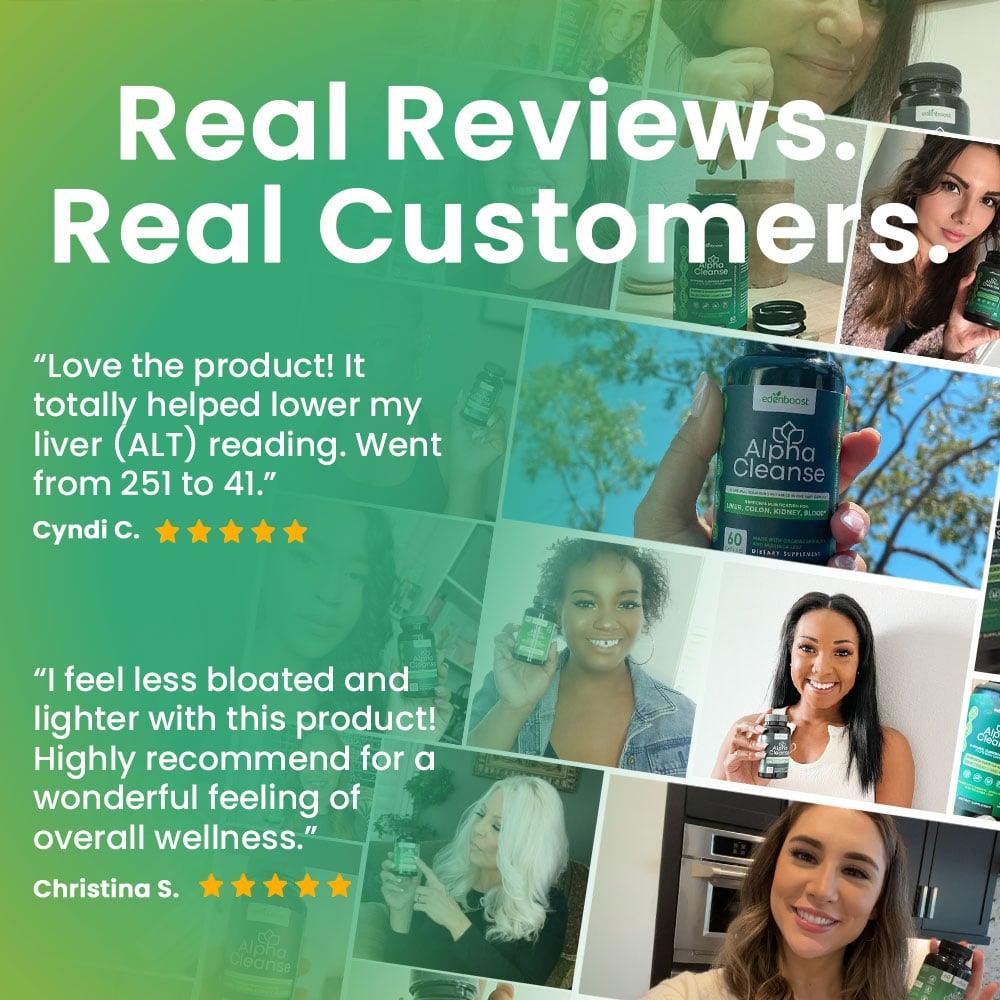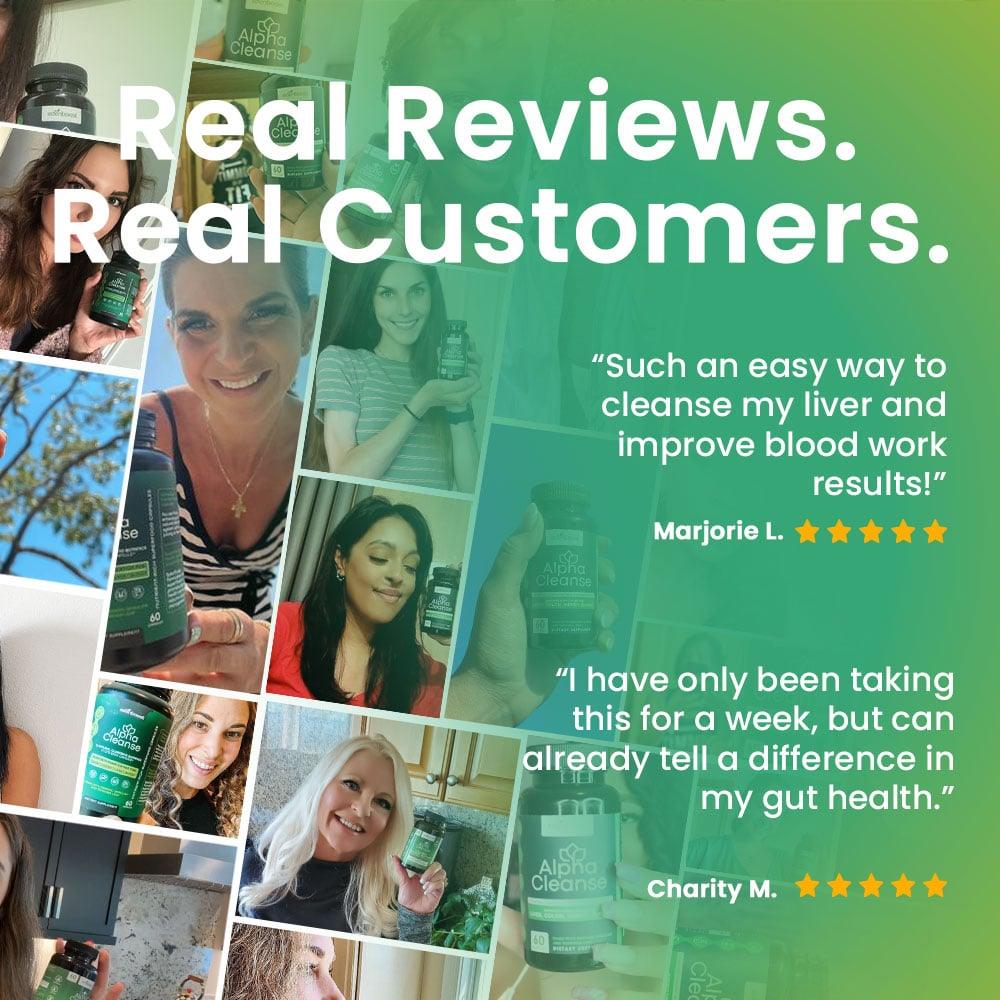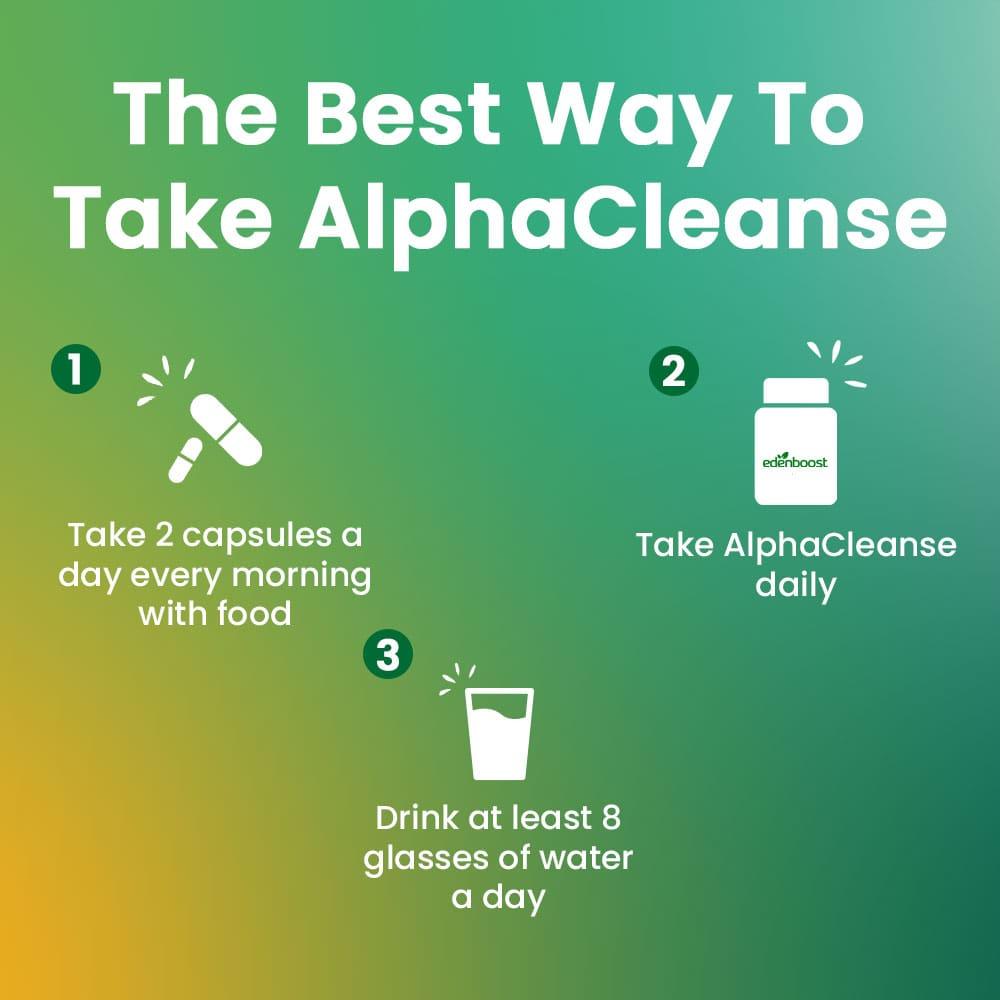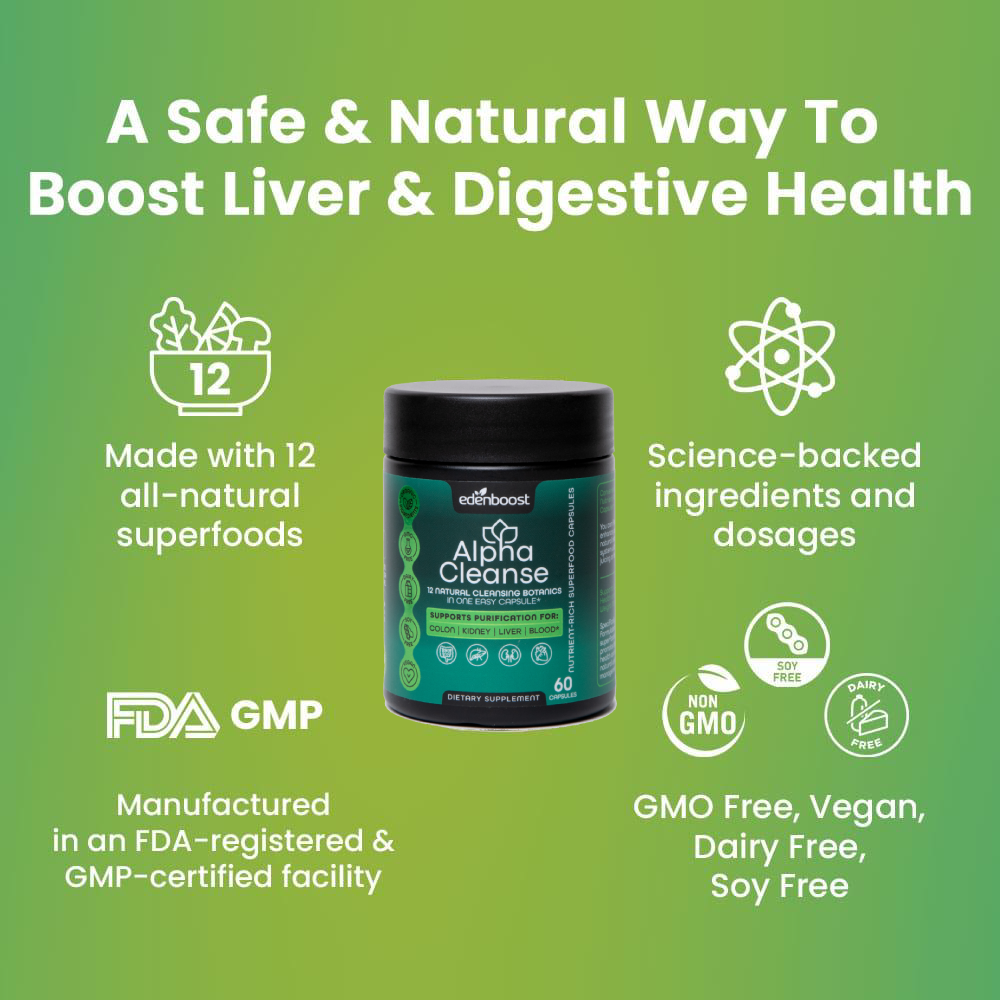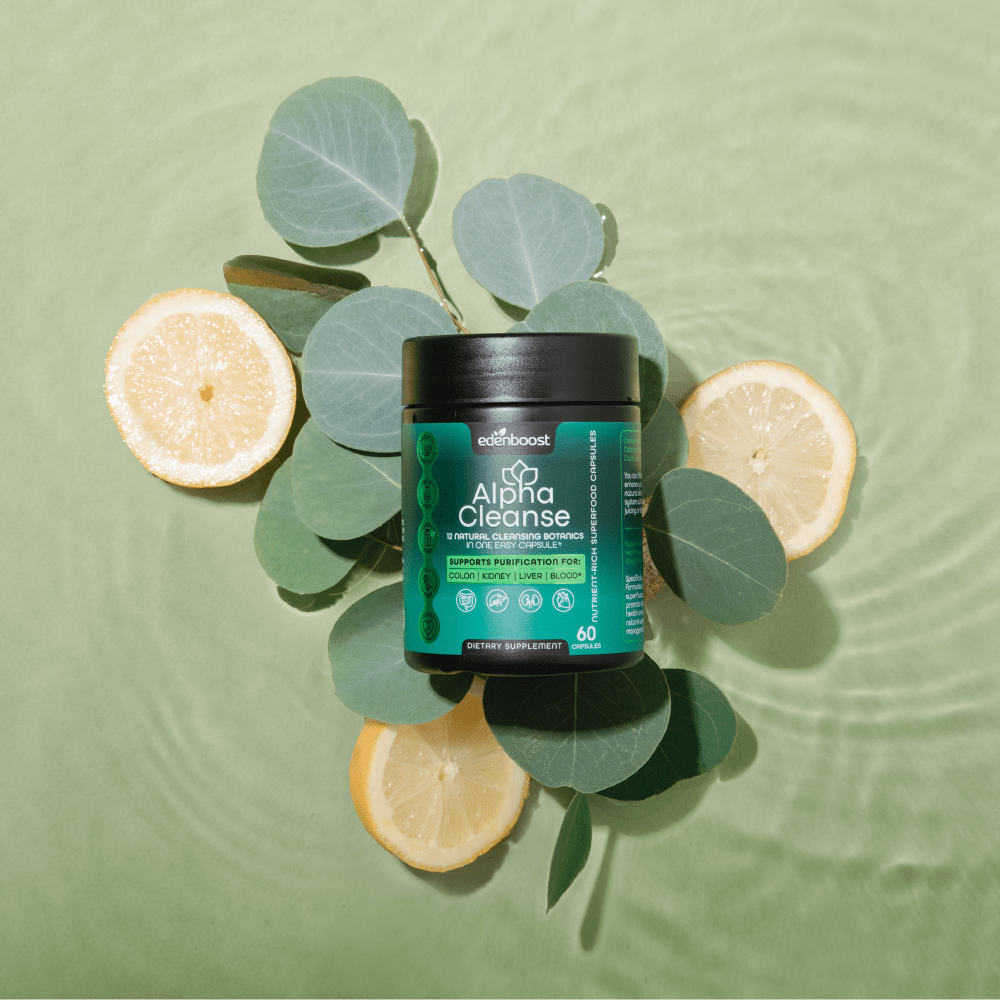 5 Crucial Reasons To Try AlphaCleanse Now
Here's why AlphaCleanse is quickly becoming the #1 natural solution to flush away harmful fat-storing toxins, waste, and bad bacteria from the liver and gut!
#1 Natural Liver Boost*
Specifically formulated with natural liver-boosting superfoods to aid in healthy liver function
#2 Promotes Smooth Digestion*
Contains natural herbs that keep you regular while easing common digestive issues like bloating, flatulence, and stomach discomfort
#3 Antioxidant & Immunity Support*
Contains a blend of organic superfoods that are packed with antioxidants to give your immune system a boost
#4 Natural Cleanse & Detox*
Flushes out toxins from the system to give you a clean supply of good energy by supporting the liver's natural detoxification process
#5 Supports Fat Burn*
Includes Spirulina, a high-nutrient superfood containing certain proteins and amino acids that have metabolism-boosting properties 4
How Can AlphaCleanse Help?
As we age, the body's metabolism rate and liver function tend to decline.
Increased exposure to environmental influences can further hinder liver function. Excessive alcohol consumption, smoking, pollution, and stress can further accelerate this downward spiral...
A poor diet and lifestyle can lead to toxin-producing bacteria in the gut and liver (bad bacteria) that negatively impacts our metabolism, making natural weight management more difficult over time.
Maintaining a healthy liver is key to helping the body with...
Smoother and more comfortable digestion
Flushing out toxins, fat, and bad bacteria from the system
A healthy metabolism rate
Natural and gradual fat burn
Having more energy throughout the day
That's why we formulated AlphaCleanse - a clean and natural way to address to boost liver function, flush out toxins, support digestion, and burn fat in a sustainable manner.
Try AlphaCleanse
60 Day Moneyback Guarantee
AlphaCleanse works by supporting the liver's 2-stage detoxification process.
Stage 1: Metabolize toxins into smaller "pieces"
Stage 2: Flush out the smaller-pieced toxins through the bowels, sweat, or urine.
Research suggests that these 12 superfoods can support liver function, cleanse the gut, support healthy weight management, support digestive health, boost metabolism, along with other amazing health benefits. 1 2 3
Try AlphaCleanse
Liver Support For $1.30 A Day
What's Inside AlphaCleanse
Organic Spirulina
A super-algae rich in antioxidants that also supports healthy weight management through improved exercise performance and fat burning properties, along with other health benefits.5 Studies further suggest that Spirulina may help to preserve healthy gut bacteria during the aging process.19
Organic Reishi Mushroom
Studies suggest that reishi mushroom can positively alter gut bacteria to support digestion and balance blood sugar levels.24
Organic Milk Thistle
Milk thistle contains silymarin, an antioxidant that may have a detoxifying effect on the liver to support liver protection and help with liver inflammation. Studies further suggest that milk thistle supports healthy blood sugar levels7, weight management, bone density, brain health, the immune system, and skin health.
Organic Rhubarb Root
A good source of fiber for improved digestion, and also a rich source of antioxidants. 8 9 Rhubarb is a superfood that supports skin health, bone health, heart health, while acting as a digestive aid.
Organic Dandelion Root
Has a protective effect on the liver by reducing levels of excess fat around the organs through antioxidants 10. Studies suggest that dandelion root can help to reduce body fat, balance blood sugar levels and support heart health.
Organic Nettle Leaf
Nettle leaf works to support kidney function and cleanse the blood. Its antioxidant properties supports liver health and supports liver protection against toxins and inflammation. Studies also suggest that regular consumption of nettle leaf may support healthy blood sugar levels. 11
Organic Beetroot
Beetroot contains betanins, a natural pigment that manages inflammatory damage, stabilizes your blood pressure, and boosts energy levels.2
Organic Ginger
Ginger is an essential science-backed superfood packed with a myriad of proven benefits, such as its positive effect on cholesterol, blood sugar, heart health, digestion, and detoxification.25
Organic Turmeric
Numerous studies attest to tumeric's detoxifying and anti-aging properties, thanks to its high levels of antioxidant activity, making it an ideal ingredient for holistic health.26
BioPerine (Black Pepper)
Turmeric's bioavailability is relatively low. Studies suggest that consuming turmeric with BioPerine can boost its bioavailability by up to 2000%.27
Organic Schisandra Berry
Studies suggest that Schisandra has strong properties for supporting liver health.
Organic Burdock Root
Traditionally used in chinese medicine, burdock root is often used to cleanse and detoxify the blood to promote better blood circulation. It's also well-recognized as a good source of beneficial antioxidants, such as quercetin, luteolin, and phenolic acids. 16
How To Take It
Each bottle contains a 30-day supply of 60 capsules. Take 2 capsules everyday, with or without food.
Customers have observed the best effects when they take 2 capsules everyday for about 2 months!
Easily store AlphaCleanse in a cool, dry place (no refrigeration needed).
Try AlphaCleanse
Worldwide Shipping
12 Superfoods. 5 Amazing Benefits. 2 Capsules.
With AlphaCleanse, you're not just giving your liver a much-needed boost; you're also benefiting other essential functions that contribute to your overall well-being.
Flush out toxins from the liver and digestive system
Replenish the body with any loss nutrients
Restore your metabolism to healthy levels
Enjoy more clean energy throughout the day
Feel lighter, healthier, and happier
Try AlphaCleanse
60 Day Moneyback Guarantee
Verified AlphaCleanse Reviews From Real Customers With Real Results.
Total 5 star reviews: 265
Total 4 star reviews: 31
Total 3 star reviews: 10
Total 2 star reviews: 7
Total 1 star reviews: 5
93%
would recommend these products
Customer-uploaded media carousel. Press left and right arrows to navigate. Press space or enter to open more details.
Slide 1 selected
Experienced Benefits In:

Detox,

Energy,

Bloating

Feeling Good

I've been taking these about 2 weeks now and I have to say, I'm feeling more energy.

Experienced Benefits In:

Bloating,

Energy,

Detox,

Sleep

Noticed the difference in 3 days!

Great! I noticed the difference in energy level after taking it for 3 days

Experienced Benefits In:

Liver,

Bloating,

Digestion,

Sleep,

Detox

Great Product

Solid ingredients, I love that all of the ingredients are organic and they are put together in a way that is highly effective. I've had better digestion and it seems to be working for the purposes of cleansing and detoxifying my body. Very Happy customer!

EB

Eden Boost

Yesterday

Amazing feedback, Pamela. We are happy to hear that you feel healthy again. We appreciate your continuous support for the product.

Experienced Benefits In:

Digestion,

Liver

Experienced Benefits In:

Liver,

Bloating

Mr

I've been taking alpha cleanse for 6 six months now the best thing I've ever had especially for my liver.
Reviews Loaded
Reviews Added
Ways We Guarantee AlphaCleanse's Premier Quality
Science-Backed Ingredients & Dosages: Verified for potency and safety by health specialists, including nutritionists and scientists.
Made in the USA: Manufactured in an FDA-Registered, GMP-Certified Manufacturing Facility in the USA.
Made with Clean, Natural Ingredients: 100% natural and has no harmful ingredients including fillers, preservatives, and other toxins.
Microbiology and Heavy Metal Tested: Each batch is independently analyzed by ISO-certified laboratories for bacteria, parasites, and heavy metals.
Try AlphaCleanse
Buy More & Save
Questions? Here Are The Answers To 15 Common Questions Customers Have Asked Before Trying AlphaCleanse
Frequently Asked Questions
Try AlphaCleanse Now
60 Day Moneyback Guarantee
References
1. Results from 5 studies showed a significant reduction in weight after taking Spirulina supplementation (https://pubmed.ncbi.nlm.nih.gov/31780031/)
2. Betanin as a multipath oxidative stress and inflammation modulator: a beetroot pigment with protective effects on cardiovascular disease pathogenesis (https://www.tandfonline.com/doi/full/10.1080/10408398.2020.1822277)
3. Moringa leaves are shown to be benficial in overall inflammation support. (https://pubmed.ncbi.nlm.nih.gov/29144438/)
4. Inulin consumption contributed to softer stools. https://www.ncbi.nlm.nih.gov/pmc/articles/PMC5739857/
5. Spirulina supplementation contributed to significant increase in exercise performance and fat oxidation. (https://pubmed.ncbi.nlm.nih.gov/20010119/)
6. Animals and test-tube studies show that moringa can reduce fat formation. (https://pubmed.ncbi.nlm.nih.gov/30618744/)
7. Silibin, derived from milk thistle demonstrates promising effects against liver disorders. (https://pubmed.ncbi.nlm.nih.gov/27517806/)
8. Rhubarb stalk fiber. (https://pubmed.ncbi.nlm.nih.gov/9430089/)
9. Antioxidant activity in Rhubarb. (https://ifst.onlinelibrary.wiley.com/doi/abs/10.1111/j.1365-2621.2012.03174.x)
10. Positive effects of dandeliion. (https://www.ncbi.nlm.nih.gov/pmc/articles/PMC5553762/)
11. Nettle leaves had a protective effect on liver damage in rats. (https://pubmed.ncbi.nlm.nih.gov/22585933/)
12. Antioxidant and antimicrobial properties of Mullein leaf. (https://pubmed.ncbi.nlm.nih.gov/31456524/)
13. Hawthorn berry has shown cardiovascular protective action. (https://pubmed.ncbi.nlm.nih.gov/28608832/)
14. Prebiotics aid in gastrointestinal digestion. (https://pubmed.ncbi.nlm.nih.gov/25659062/)
15. Red clover may decrease frequency of hot flashes. (https://pubmed.ncbi.nlm.nih.gov/26471215/)
16. Burdock detoxifies the blood in terms of Traditional Chinese Medicine. (https://link.springer.com/article/10.1007/s10787-010-0062-4)
17. Schisandra provides support for menopausal symptoms. (https://pubmed.ncbi.nlm.nih.gov/27763802/)
18. Effect of eucalyptus on patients suffering from acute bronchitis. (https://pubmed.ncbi.nlm.nih.gov/24261680/)
19. Spirulina Protects against Hepatic Inflammation in Aging: An Effect Related to the Modulation of the Gut Microbiota? (https://www.ncbi.nlm.nih.gov/pmc/articles/PMC5490612/)
20. Effect of Arthrospira (Spirulina) maxima Supplementation and a Systematic Physical Exercise Program on the Body Composition and Cardiorespiratory Fitness of Overweight or Obese Subjects: A Double-Blind, Randomized, and Crossover Controlled Trial. (https://pubmed.ncbi.nlm.nih.gov/30275428/)
21. Investigating of Moringa Oleifera Role on Gut Microbiota Composition and Inflammation Associated with Obesity Following High Fat Diet Feeding. (https://pubmed.ncbi.nlm.nih.gov/30159057/)
22. The Antioxidant, Anticarcinogenic and Antimicrobial Properties of Verbascum thapsus L. (https://pubmed.ncbi.nlm.nih.gov/31456524/)
23. Gut–Liver Axis: How Do Gut Bacteria Influence the Liver? (https://www.ncbi.nlm.nih.gov/pmc/articles/PMC6165386/)
24. Ganoderma lucidum reduces obesity in mice by modulating the composition of the gut microbiota. (https://www.nature.com/articles/ncomms8489)
25. Ginger on Human Health: A Comprehensive Systematic Review of 109 Randomized Controlled Trials. (https://www.ncbi.nlm.nih.gov/pmc/articles/PMC7019938/)
26. Curcumin: A Review of Its' Effects on Human Health. (https://www.ncbi.nlm.nih.gov/pmc/articles/PMC5664031/)
27. Influence of piperine on the pharmacokinetics of curcumin in animals and human volunteers. (https://pubmed.ncbi.nlm.nih.gov/9619120/)